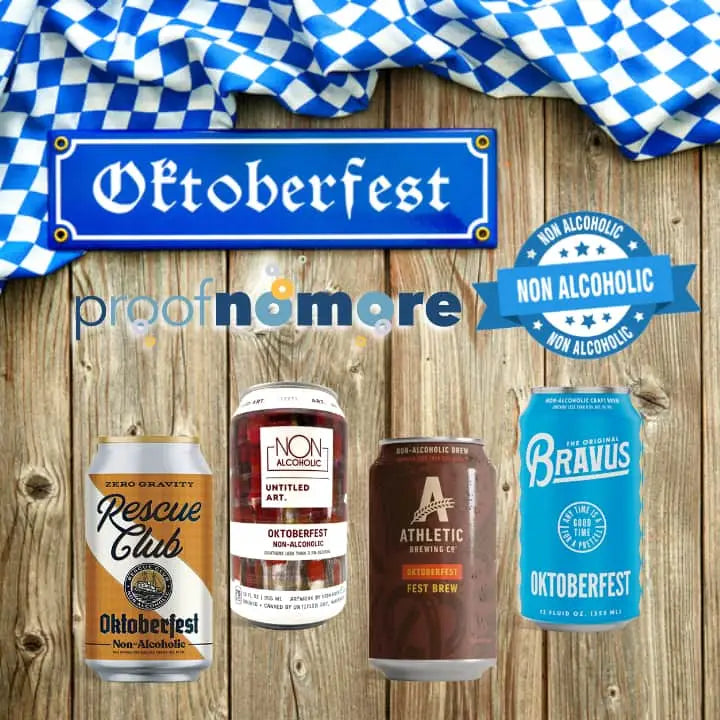 This Oktoberfest Season try Non-Alcoholic Brews to celebrate the occasion.
Title: This Oktoberfest Season: Try Non-Alcoholic Brews to Celebrate the Occasion!
Introduction:
As the festive air lingers and leaves turn golden, Oktoberfest season is upon us. While traditionally synonymous with indulging in alcoholic beverages, there's a rising trend of non-alcoholic (NA) Oktoberfest beers that provide an enticing alternative. This year, ProofNoMore has an extensive range of these NA brews to ensure everyone can join in the festivities. So, raise your glass to "prost" without the alcohol-induced hangover!
1) NA-Oktoberfest Beers Are More Abundant Than Ever This Season. And ProofNoMore Carries Them All:
In sync with evolving consumer preferences and growing health-consciousness, breweries are now offering a wider array of alcohol-free beers. Whether you enjoy light lagers or rich malty flavors, there's an NA beer tailored to your taste. At ProofNoMore, you'll find an extensive selection of non-alcoholic Oktoberfest beers from renowned breweries worldwide. Embrace this change and explore the diverse flavors that these brews have to offer.
2) NA-Beers Make the Perfect Companion to the Hearty Foods of the Oktoberfest:
Oktoberfest is renowned not just for its spirited atmosphere but its delicious culinary delights as well. From sausages and pretzels to bratwursts and schnitzels, hearty foods are an essential part of this Bavarian celebration. Non-alcoholic beers provide an ideal pairing to complement these flavorsome treats without overpowering your palate. The crispness and vibrant carbonation of NA brews cleanse the palate, accentuating the richness of savory Oktoberfest dishes.
3) Celebrate with Friends and Family, and Enjoy Staying Hangover Free:
One of the significant advantages of savoring non-alcoholic Oktoberfest beers is the ability to celebrate responsibly with friends and family. This vibrant festival thrives on camaraderie and togetherness. By opting for NA brews, you can fully participate in the revelry without compromising your well-being. Enjoy lively conversations, endless laughter, and create lasting memories while bidding farewell to pesky hangovers. Celebrate this Oktoberfest season with a clear head and indulge in the true spirit of the festival.
Conclusion:
As the popularity of non-alcoholic beverages continues to soar, the availability of NA-Oktoberfest beers has never been more diverse. Embrace this change and celebrate responsibly with ProofNoMore's extensive selection of non-alcoholic brews. These flavorsome companions will enhance your Oktoberfest experience, perfectly complementing the hearty foods that are synonymous with this festive occasion. So why not raise your glass to a hangover-free celebration filled with joy, laughter, and warm camaraderie? Prost to this Oktoberfest season!