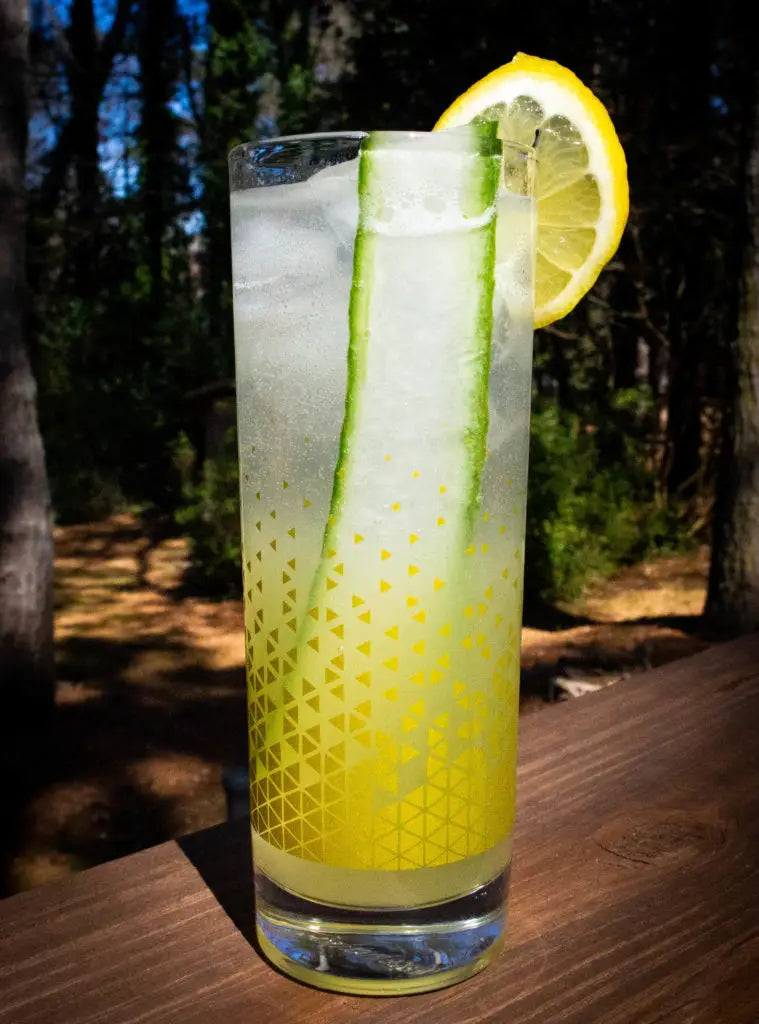 Cocktail Tuesday
Welcome to the first installment of our feature for new cocktails! Every so often we want to highlight some delicious recipes from our producers, friends, or customers and help you use your favorite NA spirits in the most delicious way possible.
This week we are featuring a cocktail from our friend L.B. in Nashville TN. L.B. purchased some spirits and wines from us a few weeks ago and wrote back to tell us how much the loved the Salcombe Distilling New London Light NA Gin. Her cocktail, the 'LeKalb Le Lo' is perfect for the coming spring season and features some fresh citrus as well as cucumber to deliver a refreshing elixir.
The LeKalb Le Lo:
4 peels of lime
1 oz lime juice
4 lemon slices
8 cucumber peels
4 oz New London Light NA Gin
.75oz Agave Nectar
Soda water to finish

Instructions:
Shake all ingredients except the soda water in a cocktail shaker for a few seconds.
Strain mixture into a collins glass filled with ice
Top with soda water
This cocktail comes together very fast and is well worth the effort. The juniper and citrus notes in the New London Light is boosted by the shaken citrus, and the cucumber balances everything while making it taste super fresh. This would be great to make a bitch pitcher of and have with a group of friends while out for a picnic. Put it in a plastic container and bring it to the beach as well!
Salcombe Distillery is located in South Devon England. Their New London Light brings all the classic flavors of a London style dry gin in non-alcoholic form. This gin combines juniper, ginger, habanero, orange, and sage to open a door into a new world of flavor.
Winner of the 2021 People's Choice Spirits Award for the 'Mindful Drinking' category and the 2021 Beverage Testing Institute Gold award for 'Conscious Spirits'.
Available in 750ml bottle, 0% ABV
Tasting Notes:
A blend of bright orange citrus, aromatic cardamom and herbaceous rosemary and sage on the nose. An aromatic and warming balance of juniper, ginger and habanero capsicum on the palate with fragrant bitterness from sage and cascarilla bark. The finish is long and smooth with sweet orange and star anise, lengthened with floral coriander and lemongrass.
Please let us know if you have enjoyed this cocktail and please send us your creations as well!
-CB